6 surprising benefits of lemon balm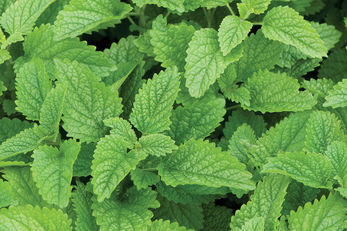 Lemon balm, or Melissa officinalis, is a perennial plant from the mint family. Like mint, it can become invasive, but if you like having a multi-purpose medicinal herb at your fingertips, there's no such thing as too much lemon balm.
Lemon balm is used in many ways, as a tea, an extract, in topical application, and the essential oil is widely used in aromatherapy.  The softly refreshing scent of lemon balm is both relaxing and uplifting at the same time.
Unexpected benefits of lemon balm you don't want to miss
Sleep disorders are a problem for 50 to 70 million Americans. While there are many pharmaceutical solutions, the cost and unwanted side effects are a big turn off, for many people.  Conversely, using lemon balm extract as a supplement can help to reduce the anxiety and stress related to chronic insomnia as well as improving sleep quality.
Boost your immune system with lemon balm. The herb contains powerful antibacterial compounds that help strengthen immunity to protect against common and even dangerous pathogens. Lemon balm is rich in antioxidants that fight against oxidative stress, a cause of cellular damage.
Lemon balm's popularity in skin-care products is well-founded.  In fact, the antioxidants and polyphenols in lemon balm naturally protect skin

 

from signs of aging and its anti-inflammatory compounds can actually help to improve inflammation-related skin issues.
When administered in specific concentrations, lemon balm can help to lower triglyceride levels and improve heart health, as well.
Who knew something as simple as a cup of tea could protect brain health? The high levels of antioxidants in lemon balm reduce plaque in neural pathways and protect against neurodegenerative diseases.
Cold sores caused by virus may be reduced by the application of lemon balm. The anti-inflammatory and antibacterial compounds in the herb provide natural relief to the discomfort associated with cold sores.
Are you getting the most benefits from lemon balm?
Because lemon balm is so versatile and can be used in many ways, it's important to understand which method is best for your specific needs. For balancing mood or enhancing sleep, try wearing the essential oil as a perfume or placing a few drops in an aromatherapy diffuser.
Drinking a cup of hot or iced lemon balm tea is a tasty way to get the nutritional benefits of the plant. Simply brew it as you would any other type of herbal tea. The fresh plant has a light lemony flavor and can be used in any dish where you might use fresh mint, such as fruit salads, marinades and desserts.
Lemon balm essential oil, extract or infusion make topical application easy. Never apply essential oil straight to the skin, dilute a few drops in a carrier oil or into your favorite cream/lotion instead. Topical applications are helpful for reducing inflammation, pain and supporting skin complexion care.
Sources for this article include: