What you need to know about caffeine and breast cancer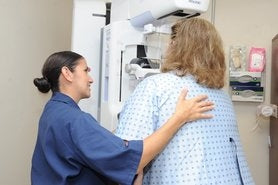 1 out of every 8 women in the U.S. is at high risk of getting breast cancer.  The numbers are truly staggering: over 40,000 women will die – in 2018 alone.  But,
the big question for today
is: does caffeinated coffee cause breast cancer?
First of all, I must admit the statistics from the American Cancer Society are grim and they certainly don't offer much hope when they say that the cause of cancer is a 'mystery.' <br>
Sadly, Western medicine and most of these non-profit organizations rarely say enough about the known risk factors for breast cancer – which include emotional trauma (stress); exposure to environmental toxins; a poor diet filled with excessive amounts of dairy products and processed sugars plus the overexposure to radiation from mammograms and other medical testing.
But, back to the question at hand, will drinking coffee trigger breast cancer cell growth?
Fact vs. fiction: Does caffeine in coffee trigger breast cancer?
This has been a big debate: should we be drinking coffee or not?  And, the answer may surprise you.
If you love the smell (and taste) of coffee, you're going to
love
what you're about to read.  You see, it turns out that a caffeine beverage
does
offer health advantages like, a lower risk of mortality and chronic ailments.  Although, I must admit, I never really acquired a taste for it.
Personally, I enjoy sticking to a high-quality (unprocessed foods) diet and supplementation routine that includes many of the
LuvByNature products
on a daily basis.  And, of course, exercise - as often as I can - every week.
Positive results from cancer research revealed
According to a research project done in Sweden and published in the
Breast Cancer Research
journal, there is more to coffee than just the wonderful taste.  The study involved comparing coffee consumption and lifestyle factors among same age women with breast cancer and those without.
Unlike women who rarely took coffee, it was revealed that women who were fond of this beverage had a
significantly lowered occurrence of breast cancer
.
However, the researchers also pointed out that various lifestyle factors such as weight, exercise and menopausal age influenced the rates of breast cancer.  But, yes, the data was adjusted to account for these other risk factors before rendering an opinion about the value of drinking coffee.
In fact, after comparison with the reference group, it was found that women who took more than 5 coffee cups daily were
57% less likely to get Estrogen Receptor (ER) negative ailments
such as breast cancer.
It is along the same lines that women taking at least 5 cups of coffee - on a daily basis - had a 33% lesser risk of Progesterone Receptor (PR) negative diseases.
The data collected had a similar but weaker trend when compared to a similar study done in Germany thus validating the results of the Sweden research. The researchers said that the weakness might have been due to the type of beans used, or the manner in which the coffee was prepared.
Bottom line: Even the Harvard School of Public Health says that 54% of American adults drinking three cups of coffee per day aren't viewed as a higher breast cancer risk.  There was even a study that involved more than 3,000 women disproving the idea that coffee increases breast cancer risk.
Naturally, if you do drink coffee, we would encourage you to drink the best quality (organic) coffee possible without the added sugar.  And, of course, by going organic – you'll avoid the unwanted chemicals.
And, for those that don't want to drink coffee, be sure to keep your immune system healthy and strong with an unprocessed (organic - as much as possible) diet; avoid environmental toxins in your immediate air space and water supply; and be sure to avoid nutritional deficiencies by consuming high-quality, nutritional supplements, like those found inside the
NaturalHealth365 Store
.
Wishing you health and happiness - always!
Source for this article include:
Cancer.org
Biomedcentral.com
Harvard.edu
Academic.oup